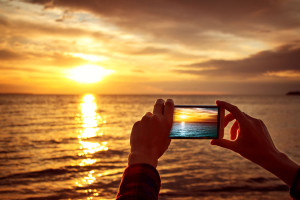 It's a week before your trip. Thanks to the amazing team at Creating Magic Vacations who put it together for you, you know it is going to be, well, magical.
Now, how will you commemorate your adventure? Of course, you will want to think about what souvenirs you'll be bringing back for family, friends and yourself. However, one of the best ways to capture the memories is by taking lots of pictures. Not only will you enjoy looking back on your trip, but you can also share your favorites with others. A family vacation picture makes a great gift or holiday card. You can even create albums for yourself and to share.
Have you ever looked back at vacation photos and realized the beauty of the place you visited wasn't adequately captured? The lighting is off; some images are blurry, and the memories in your head are vastly different than what the camera captured. Don't worry – you don't have to be a great photographer to capture great pictures! And we know you are going to be so busy enjoying your trip that you won't have time to get down to the nitty-gritty with things like staging the kids for your family shots.
So before you head out and start snapping away, we want to share some tips that can help you capture the true essence of the places you visit without a lot of hassle.
1. Do your research before your trip.
Most people spend hours online looking for the best restaurants to visit and the best things to do on vacation. Since you've trusted your CMV Travel Advisor to custom-build your family vacation, you can use your time to research some of the best places to photograph. Google can lead you to some great photography blogs with recommendations of top photo spots to visit. You can even ask locals for recommendations as well. And, of course, your travel advisor can share ideas too!
2. Dress for the job.
If you're planning to take great pictures, you might have to get low at some point – that's right, on the ground. You might even have to climb on top of a few objects to help you capture a great sunset. Ladies, this means that heels might not be your best option, and handbags get in the way as well. Make sure you wear comfortable, weather-appropriate shoes and swap your purse out for a backpack so that you'll be hands-free. This way you'll be able to capture anything that you might see at the drop of a pin (or click of a camera). By the way, if you are headed to a Disney park, comfortable shoes and backpacks are musts!
3. Take pictures of people.
You will definitely want to capture the magic and beauty of your surroundings. But you also want to capture the happiness and magic on the faces of your family. Don't concentrate only on pictures of the sights or only on pictures of people either, for that matter. Get a good mix. The shots don't have to be staged but do take the time to get photos as a group and of individuals. These will make great keepsakes!
4. Learn the rule of thirds.
You don't have to be a professional photographer to use the rule of thirds. This rule is "a composition guideline" that places whatever you are taking a picture of in the left or right third of the picture. If you are using the camera on an iPhone or an Android, you can turn on grid lines in Settings to make it easier to follow this guide.
5. "What lens should I bring?"
Whether you're packing clothes, 20 types of sunscreen, or snacks, some of us are just chronic over-packers. This usually becomes an issue, unless we're talking about photography. We guarantee that you will never regret packing an extra lens. Here's what we recommend:
These two lenses will be appropriate for pretty much anything that you need to shoot, at any time.
Do keep in mind that you can plan a photoshoot with a professional photographer. After all, a magical vacation is a perfect time to preserve family memories. But you won't have a photographer following you everywhere you go – and catching those spontaneous moments is part of your fun.