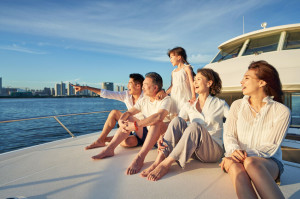 We've planned a lot, and we mean A LOT, of multi-generational family vacations. And families always have the same basic question: How can we plan something that will appeal to such a broad range of ages and interests?
We know the answer – a cruise! Here's a few reasons why we thinking cruising is the perfect vacation when you are traveling with a large group.
Different vacation styles? No problem
Maybe your idea of a vacation is sleeping as long as you want, hanging out by the pool and mostly taking it easy. But your relative is all about getting up early and packing the day with activities. On a cruise, everyone can vacation just how they like, with no need for families to spend every moment together. We usually recommend planning one or two core activities that the whole group agrees on ahead of time. Maybe it's an excursion to swim with dolphins or one night set aside for karaoke. Other than that, folks can do as they please! It makes for great conversation when everyone meets up for dinner at the end of the day. And by checking out the schedule the night before and seeing who is up for what, you end up with some smaller groups who can spend real quality time and make cool memories together that doesn't always happen in a huge group.
Fun at every age
One of the best things about a cruise is that there truly is something for every age group. Kids love the pool and water activities, and can chill in the kids club when their parents need a break. Teens can bond with cousins and meet new friends at their club, or hit up the arcade. Mom can read by the pool, Dad can play trivia, and Grandma can spend time in the casino. Or, they can all do something completely different! There is never a shortage of activities and everyone is sure to find something they love.
See several destinations, but only unpack once
Cruising is a fantastic way to see several destinations in one trip, without having to worry about the logistics and hassle of moving from place to place. This is particularly nice when traveling with small children, who always seem to need a lot of gear. You can unpack once in your cruise cabin on embarkation day, and then sit back and relax as the crew takes you to various destinations. It's a great opportunity to engage in a wide variety of activities and see different sites, with your floating hotel as your mode of transportation!
No passport required (sometimes)
Arranging passports for the whole family – and making sure you have plenty of time to get them – can be a major hassle. But for "closed-loop" cruises that leave and return to the same port in the U.S., passports are not required! Everyone will need an official form of government ID (we'll let you know the specific types accepted on your specific cruise), but for most passengers a government-issued ID such as a driver's license or birth certificate works fine.
A chance to build core memories together
Cruising offers so many fun experiences that are amazing to share as a family. You'll never forget Dad wiping out at the wave pool, swimming with dolphins as a family, or that perfect day at the beach when everything just seemed right with the world. A cruise is the perfect chance to create those memories that will last long after you return home.
Interested in booking a cruise but not sure where to start? We're here to help. Let's chat and figure out the destinations, itinerary and ship that work best for you and your group. The best cabins book up fast, so don't wait!