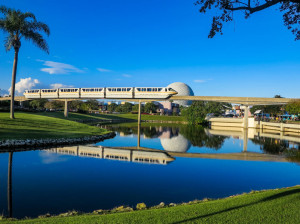 One of the biggest benefits of staying on-property at Disney is the included transportation. But there are so many ways to get from here to there! It all depends on which hotel you choose, and where you are headed. Here's a breakdown:
Buses and Vans
This is the most common form of transportation, and one you'll see in some capacity at almost every resort. Buses usually come every 15-20 minutes, with more frequent service at busy times like park opening and closing. Another fun way to get around is the Minnie Vans — you can order one on the Lyft app. Bonus, they have two car seats for the little ones if you need them. Some resorts share transportation, so it can be a big benefit to stay closer to the first stop. It's also easy to use the bus system to go to other resorts, by taking a bus from your hotel to the theme park closest to your destination. While some hotels just off Disney property may offer bus service, their drop off locations are not as close as the ones from Disney Resorts.
Boats
These are one of the more rare forms of transportation, but they are so magical! It builds so much anticipation to hop on a boat from the Transportation and Ticket Center and see the Magic Kingdom approaching. Other boats can give you the feeling of being "down on the bayou" as they take you from the Port Orleans resorts down to Disney Springs. If you're staying at any of the Epcot resorts, there are boat transportation options to get you directly to Epcot as well! This may not be the fastest way to get from point A to B, but it sure is delightful!
Gondolas
Disney's new Skyliner connects four resorts (Riviera, Caribbean Beach, Art of Animation and Pop Century) with EPCOT and Disney's Hollywood Studios. This flight across the resort also gives guests access to the Boardwalk area. The quick and seamless trip makes staying at these resorts extra attractive! Each gondola is decorated with Disney characters and scenes, so it's fun to see which one you'll get this time!
Monorail
Truly an icon of the Walt Disney World Resort, the monorail was one of Walt Disney's dreams when he first came up with the idea for EPCOT – then known as the Experimental Prototype Community of Tomorrow. Walt loved trains and knew they had the power to move people efficiently and conveniently. Today the monorail connects the Magic Kingdom and its nearby resorts (Contemporary, Grand Floridian and Polynesian Village) to EPCOT, and is also a major transfer for guests coming from the Transportation and Ticket Center. Staying at these resorts is absolutely wonderful if you plan to do multiple days at Magic Kingdom or EPCOT.
Walking
This may not sound like the most glamorous option, but it is absolute luxury to stay within walking distance to the park! Just imagine strolling on up to the gate each morning and skipping the wait for transportation. Guests at the Contemporary, Grand Floridian and Polynesian Village are within easy walking distance to Magic Kingdom. Over in the Boardwalk area, resorts like the Beach Club, Yacht Club, Boardwalk Inn and Swan and Dolphin offer access to BOTH Hollywood Studios and EPCOT's International Gateway entrance.
However you get there, your day at the Disney parks is sure to be magical! We'd be happy to help you find the best transportation option for your specific needs. Give us a call or shoot us an email and we can start planning the perfect stay!