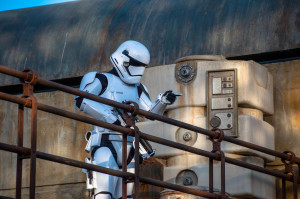 Have you ever dreamed you were a Jedi knight in a galaxy far, far away? Or that you were a Resistance spy trying to hide out from the First Order?
Or maybe you just enjoy Star Wars and want to go even deeper into the adventure than the normal activities offered at Galaxy's Edge. If any of these sound like you, a voyage on Disney's Galactic Starcruiser will make for an absolutely magical and mind-blowing getaway!
What is Galactic Starcruiser
Galactic Starcruiser is a fully immersive, 2-night experience just outside of Disney's Hollywood Studios. Board the starship Halcyon, jewel of the Chandrila Star Line, for a "choose-your-own-adventure" style story where you become part of the show. Embark on secret missions, make alliances, and meet characters new and old in an intimate setting.
What kind of activities are included?
Think of Galactic Starcruiser like a cruise. There is a daily itinerary with classes, dining, and activities. But this experience goes beyond, offering pop up missions and interactive options that allow you to make choices that change your story, and direct you where to go over the course of your journey. We don't want to give too much away, but suffice it to say, there is NEVER a shortage of cool and exciting things to do! One highlight is a "mission" into Galaxy's Edge before the park opens to the public, where you have all of Batuu to yourself! Ride Rise of the Resistance and Millennium Falcon: Smugglers Run with little to no wait before heading back aboard your cruise.
It's all included
Breakfast, lunch, dinner and plenty of snacks – with the exception of alcohol – are all-you-care-to-enjoy while you are aboard. (Alcohol can also be purchased for an additional fee.) Your cruise cabin and all of your activities are also included in this fully immersive experience. It's a great chance to try new foods, stretch yourself with new activities, and fully immerse yourself in this exciting new world without having to worry about a thing! Everything is taken care of for you.
You get out what you put in
Those who have the most fun at Galactic Starcruiser are definitely those who are willing to play along! This doesn't mean you need to be a huge extrovert – just that you need to be willing to take the prompts given and allow cast members to interact with you. It also allows for the intimate nature of this experience, with most interactions and special moments taking place with fewer than 10 people. Costumes aren't necessary, but they are welcome, adding an extra layer of fun for those who wish to participate.
If you are looking for a truly "out of this world" getaway, Galactic Starcruiser is the perfect trip for you. Combine it with a longer trip to Walt Disney World, or do a quick 2-day stay and focus exclusively on this incredible experience. We promise you'll be impressed, both with the top-notch service and the amazing experience!